Circus Characters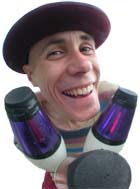 extended FLEXIBILITY
James Jay's circus skills include:
Juggling balls, clubs, rings and books
Plate manipulation
Poi swinging
Staff spinning
Fire juggling, swinging and spinning
Spanish web or tissue
Partner acrobatics
Stiltwalking
and walking on point ;-)
Figuratively speaking, James Jay is a contortionist capable of filling a variety of theatrical roles. He plays the preacher and the freak, the robot and the clown.
The common element is his focus on honing in on the right character to spark the connection between the choreography and the crowd.
With Circus Contraption in Seattle, Jay explored a variety of clowning roles, and expanded his repertoire of circus skills.
The many faces of James Jay make it easy to customize a character best suited to your event and audience. Even the same act can be customized to different audiences. For example, the Juggling Jukebox is available in "artiste" or "clown" trappings.
Photo (right) by William Schmidt, Jr.